Charity Navigator, a leading evaluator of nonprofit organizations, recently awarded the David Lynch FoundationSM for Consciousness-Based® Education and Peace (DLF) its highest possible evaluation for a charity—four stars. DLF, a 13-year-old nonprofit providing the evidence-based, stress-reducing Transcendental Meditation® (TM®) technique to at-risk groups,  earned an overall score of 92.14 out of 100 for its financial health, program growth, accountability, and transparency. Read full report here ►
Charity Navigator is "one of the more influential charity assessment organizations," said the New York Times. It provides donors and investors with unbiased evaluations to make confident choices about which organizations to support. Charity Navigator's four-star rating demonstrates how effectively the David Lynch Foundation uses the generous donations it receives.
Fighting the Epidemic of Stress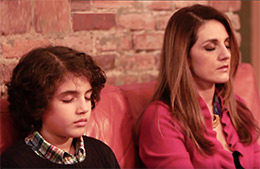 The David Lynch Foundation has taught the TM program to 1 million at-risk individuals across the United States and around the world. It is addressing the epidemic of trauma and toxic stress through various programs that offer the TM technique to those who need it most. These include underserved young people, veterans with post-traumatic stress (PTS), and women and children who are victims of domestic violence. Learn more about DLF ►
Changing Lives for Underserved Kids
DLF's Quiet Time Program has been adopted by hundreds of public, private, and charter schools worldwide. A schoolwide program in which students and educators practice the TM technique twice during the school day, it dramatically reduces stress and improves academic performance, student wellness, and the school environment.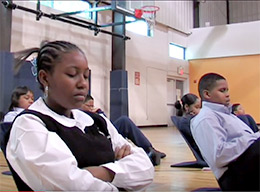 "The Quiet Time Program is the most powerful, effective program I've come across in my 40 years as a public school educator," says James S. Dierke, executive vice president of the American Federation of School Administrators. "It is nourishing these children and providing them an immensely valuable tool for life. It is saving lives."
Scientific research on the Quiet Time Program shows:
10 percent improvement in test scores
Increasing creativity
Greater happiness, focus, and self-confidence
Reduced symptoms of ADHD and other learning disorders
86 percent reduction in suspensions over two years
40 percent reduction in psychological distress, including stress, anxiety, and depression
65 percent decrease in violent conflict over two years
Improved teacher retention and reduced teacher burnout
Learn more about the Quiet Time Program ►
Life-Saving for Veterans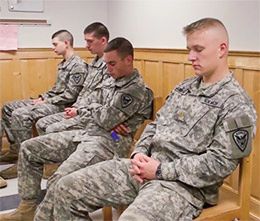 PTS has reached epidemic proportions, with over half a million U.S. troops deployed since 2001 suffering from post-traumatic stress. Yet less than 20 percent will receive adequate care, due to lack of effective treatments, fear of stigma, or insufficient government resources.
Operation Warrior Wellness, a division of the David Lynch Foundation, offers the TM-based Resilient Warrior Program for relieving symptoms of PTS and major depression and developing greater resilience to stress.
Since launching in 2010, this program has partnered with leading veterans service organizations, Army and Marine bases, VA medical centers, and military colleges to bring the TM program to veterans, active-duty personnel, military families, and officers-in-training.
Scientific research on the TM-based Resilient Warrior Program shows:
40-55 percent reduction in symptoms of PTSD and depression
42 percent decrease in insomnia
30 percent improvement in satisfaction with quality of life
25 percent reduction in plasma cortisol levels
The Department of Defense has provided $2.4 million to study the effects of TM on PTS among Iraq and Afghanistan veterans.
Learn more about Operation Warrior Wellness ►
Empowering Women and Children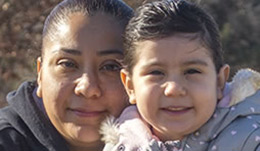 One out of four women will be assaulted by a spouse or partner during their lifetime, and nearly 3 million children witness this every year. To help combat this epidemic of violence against women and children, DLF launched the Women's Health Initiative in 2012. The Initiative offers the TM technique, which research shows helps victims of abuse recover and empower themselves.
DLF partners with leaders in the field of domestic violence and human trafficking across the United States and around the world to teach the TM technique to women and children who need it most.
For example, DLF partnered with the New York City Mayor's Office to Combat Domestic Violence, helping victims across the city heal from trauma and alleviate post-traumatic stress. The Women's Health Initiative has already provided scholarships for over 500 women through the Family Justice Centers in Manhattan, Brooklyn, and Queens, as well as through Sanctuaries for Families and other regional women's shelters.
Learn more about DLF's Women's Health Initiative ►
A Foundational Tool for Those in Need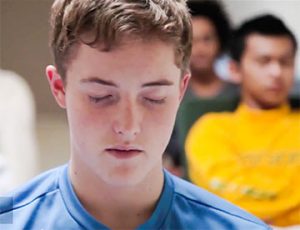 Given these groundbreaking programs, it's no wonder Charity Navigator awarded the David Lynch Foundation for Consciousness-Based Education and Peace its highest rating for a nonprofit organization.
"I believe that Transcendental Meditation is a tool that every single human being should have," says Michael Barakat, principal of Bronx High School for Law and Community Service, a DLF Quiet Time school.
"Just like we teach students math and science and social studies and English, and just like we mandate physical education, we need to teach students the TM technique," he explains. "This is something that should be foundational in education."
Help support the work of the David Lynch Foundation ►