Bob Roth's Strength in Stillness: The Power of Transcendental Meditation rocketed to the New York Times and Amazon Bestseller lists within two weeks! Filled with charming first-person stories, compelling research, and penetrating insight into the mechanics of how the Transcendental Meditation® (TM®) technique facilitates profound transformation, the book's soaring popularity is not surprising.
As a longtime TM teacher and CEO of the David Lynch FoundationSM (DLF), Roth has announced in his media appearances that all proceeds from the sale of the book will be used for scholarships for veterans, at-risk youth, traumatized families, and others who want to learn the TM technique but lack the means to do so.
Seinfeld, Jackman, and Furness Headline Book Launch Party on Facebook Live
Roth and Strength in Stillness have garnered extensive, high-profile media coverage ever since the online Book Launch Party on February 6. This entertaining Facebook Live event featured comedian/actor Jerry Seinfeld and actors Hugh Jackman and Deborra-lee Furness.
Jackman and Furness shared heart-warming accounts of how they came to learn the TM technique, and Roth traced the birth and development of the David Lynch Foundation.
Seinfeld answered questions from the audience and amused guests with laugh-out-loud stories—including his appearance with the two remaining Beatles at the 2009 David Lynch Foundation "Change Begins Within" concert.
Highlights of Strength in Stillness Media Coverage
Good Morning America, with George Stephanopoulos and Robin Roberts
On February 6, Roth spoke with Roberts and Stephanopoulos, both of whom learned TM from him.
"We're talking about Transcendental Meditation, a medical tool that can …  allow the active thinking mind to just access calm. And when that happens, your body, according to research, gains a profound state of rest," Roth said.
Stephanopoulos and Roberts also talked about how they started TM and how valuable it's been in their own lives.
Good Day New York
In another lively interview, Roth spoke with hosts Rosanna Scotto, also one of his TM students, and Lori Stokes, on February 7.
"I was really stressed out. I was not sleeping… I had so many issues. And you really helped me calm myself down," said Scotto. Roth also explained how Strength in Stillness breaks down the science behind the TM technique.
92nd Street Y with Mary-Louise Parker
The famous New York City cultural institution and community center invited Roth to join Tony‑, Emmy‑, and Golden Globe-winning actress and writer Mary-Louise Parker on February 7 for a full-length discussion about his new book and the benefits of TM practice. "It's just so simple, and you can do it anywhere!" said Parker.
As he's been doing in most of his appearances, Roth told the story of how he started TM as a young college student during stressful times on the UC Berkeley campus, and why TM is so popular today.
Facebook Live with Maria Shriver
In Shriver's program, Architects of Change, she and Roth "break down how to reduce stress, access inner power, and build resilience" with the TM technique. She also said she's "deeply grateful" to Roth for teaching her TM.
Russel Brand on Twitter
The actor and activist tweeted this fun video with Roth on February 12. Brand promotes both the British and American versions of the book, which is also available in nine languages.
NPR's Marketplace Morning Report with David Brancaccio
In this radio interview on February 14, Roth joined host and senior editor Brancaccio to discuss the TM technique's popularity in the finance industry and some of the health benefits people experience with the practice.
Entertainment Tonight
Featuring famous entertainers from Katy Perry, to Cameron Diaz, Hugh Jackman, Oprah, and more, the show ran a short video titled "Why Celebs Are Obsessed with Transcendental Meditation." Perry said, "It has helped curb my anxiety so much."
The Ellen DeGeneres Show—Watch for Roth's Upcoming Appearance!
Ellen DeGeneres has invited Roth to appear on her show on March 21. In the meantime, she's been tweeting about the book.
The Dr. Oz Show will also feature Roth and Strength in Stillness
Be sure to watch the Dr. Oz Show on April 6 when Roth will talk about his new book and field questions.
Roth Tours the U.S., U.K., and Australia with Strength in Stillness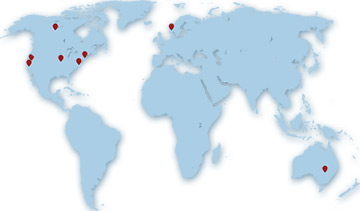 Roth has been appearing to sold-out crowds across the United States to talk about his new book, how his TM teaching career began, and how the TM technique is helping to meet the urgent needs of our time.
As of this writing, Roth is now touring the United Kingdom, with Australia next on his itinerary.
Here are some of the stops on his U.S. tour, followed by media highlights from his U.K. appearances and interviews. Watch for news from Down Under next month!
Greenwich, Connecticut — On February 8, Roth joined Ray Dalio, founder of Bridgewater Associates, the world's largest hedge fund, and filmmaker Joni Steele Kimberlin to talk with 350 people at Greenwich Country Day School.
Washington, D.C. — On February 9, Roth appeared with Kurt Newman, M.D., President and CEO of Children's National Health System, at The Wharf before a rapt audience of 150.
Los Angeles — On the West Coast, Roth joined his friend and DLF founder David Lynch for three appearances to talk about TM and Strength in Stillness. The first was in L.A. on February 12, to a crowd of 1,000 people, at the Wilshire Ebell Theater.
San Francisco — The next day, on February 13, they spoke to a sold-out event of 1,600 people at the Nourse Theater.  
Seattle — On February 14, Roth and Lynch appeared at the Temple De Hirsch Sinai to another sold-out crowd. Lucky for us, this event was taped — watch it here (1:03:52) ►
Fairfield, Iowa — After his coastal appearances, Roth made his way to the heartland and the home of Maharishi University of Management® (MUM).
On Sunday, February 18, he gave a talk to about 200 people in Dalby Hall on the MUM campus, where all students were offered a complimentary copy of Strength in Stillness.
The next morning he appeared at the packed downtown TM Information Center. All copies of the book sold out, and dozens of attendees lined up for his autograph.
Philadelphia — Tuesday, February 20, Roth presented Strength In Stillness to a packed house of over 120 people at the Free Library of Philadelphia. He discussed his New York Times bestseller and the TM technique, led a thoughtful Q&A with a very engaged audience, and signed books. The event was streamed live and is available for online viewing and podcast listening. The Free Library's podcasts reach between 82,000 and 100,000 listeners per month.
London Newspapers Feature Strength in Stillness

Roth and Strength in Stillness have also received significant coverage from the British press. On February 10, The Guardian's story, "Top U.S. Meditation Teacher Brings His Message to Stressed-Out Britons," opened with this introduction: "He studied with Maharishi Mahesh Yogi, the Beatles' spiritual guru, and claims comedian Jerry Seinfeld, actor Hugh Jackman, and designer Stella McCartney as fans. Now America's most successful contemporary exponent of Transcendental Meditation is bringing his message to Britain."
The article notes that the David Lynch Foundation is about to start a two-year pilot study at a secondary and a primary school in London. Roth explained that half of the students will do two 15-minute periods of TM® daily while the other half rests or reads. Researchers will compare the performance of the two groups in the areas of educational attainment, attention span, and stress levels. The Observer ran a similar article on February 11. Read the Guardian article ►
The London Times featured a front-page story in its "Times2" supplement: "Stella McCartney on meditation: 'When my mum died, Dad, my brother and I went to see the Maharishi'." It tells the story of how Sir Paul McCartney and his family gained strength from their TM practice after Stella McCartney's mother, Linda, succumbed to cancer. McCartney reported that TM "made an almost instantaneous difference to my ability to cope… It really did help me at a time when I really needed some help."
The article also includes an interview with Roth, who told writer Ben Hoyle, "I've taught thousands of inner-city schoolkids, veterans, etc., but I'm known for this [teaching TM to celebrities]. I teach Oprah Winfrey exactly the same way that I teach a homeless person. They don't get anything different. They're a human being, and they're looking for something that's going to help them."
The London Times article also includes an intriguing passage from Roth's book, in which he describes teaching Michael J. Fox, the actor and Parkinson's Disease activist:
I sat across from Michael in my office, both of us in comfortable chairs. I gave him his mantra and explained how to use it properly. He closed his eyes and began to meditate. Within seconds — literally seconds — all his tremors ceased. I am not talking gradually subsided, but just stopped. Stunned by what I saw, I closed my eyes and meditated with him. A few minutes later, when we both were done meditating, I looked over at him, and he was staring at his hands, which lay motionless on his lap. He sat like that for several more minutes, just looking at his hands.

"This moment," he said, "is the calmest I have felt in years. Decades."

I wondered if he would have the same experience the next time he meditated at home. We met the following day and, sure enough, he said the same thing happened.

A week later he told me it was still happening when he meditated at home. Whenever he did TM, the tremors ceased. He said he had begun sleeping more soundly through the night whereas before he would wake up every one or two hours.
(The full London Times article is available to online subscribers only.)
Take Part in the Strength in Stillness Story!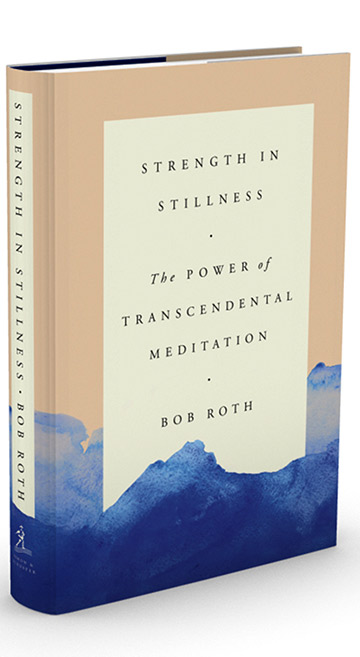 Whether you give the book to yourself or to family and friends who've been curious about TM, Strength in Stillness offers inspiration and insight about the power of the Transcendental Meditation technique to transform lives for the better. Roth is donating all proceeds to TM scholarships for veterans with PTSD and others in need.
Order your copy of Strength in Stillness here ►
In case you missed it, you may enjoy reading an exclusive excerpt from Strength in Stillness that Roth shared with Enjoy TM News readers last month, in which he tells the story of how he started TM in the 60s.
With several book tours and appearances in the works, watch for more reviews and replays in the coming weeks.