Toxins surround us. In our food, our water, our air.
Yet according to Maharishi AyurVeda—a comprehensive and prevention-oriented healthcare system based on ancient Vedic health science—these environmental toxins are only a part of the toxic load your body builds up every day.
Digestive toxins are created when you don't digest your food properly, or when you eat food that doesn't agree with your mind-body system. They can sap your energy, cloud your mind, and color your emotions.
The bottom line—toxins of all kinds create stress and disease.
Fortunately, the science of Maharishi AyurVeda offers many practical ways to detoxify both environmental and digestive toxins. Some of these can be practiced at home as part of your daily routine. Others are offered at in-residence facilities.
Maharishi AyurVeda Purification Treatments
One of the most powerful ways to clear toxins from the body and maintain overall balance is through the Maharishi RejuvenationSM program, traditionally called panchakarma.
"You could define panchakarma as the ancient art of purification," says Mark Toomey, Ph.D., director of Maharishi AyurVeda at The Raj health spa in Fairfield, Iowa. Acclaimed by the likes of CBS, Newsweek, and Town and Country as a top Maharishi AyurVeda health spa, The Raj attracts clients from all over the world to its charming and luxurious facility nestled in the peaceful Iowa countryside.
One of the most powerful ways to clear toxins from the body and maintain overall balance is through the Maharishi Rejuvenation program.
"Maharishi AyurVeda techniques of purification help us to maintain a physiology that's not only capable of experiencing its own finer states of awareness, but also maintains the connectedness of every part of the body to the wholeness or pure consciousness within," says Dr. Toomey.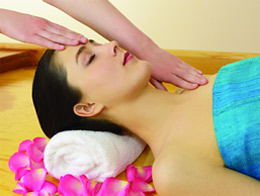 Personalized Spa Programs
When you come to The Raj and stay in-residence, a Maharishi AyurVeda expert first determines your individual treatment program, depending on the state of balance or imbalance of your mind-body system.
The purifying spa schedule might include Maharishi AyurVeda warm-oil massage (abhyanga), soothing oil treatments to calm the mind (shirodhara), steam therapies (swedana), along with purification of the nasal passages and the large and small intestines.
Maharishi Rejuvenation therapies are gentle yet powerful in their ability to flush out toxins. A study published in Alternative Therapies in Health and Medicine in 2002 found that the Maharishi Rejuvenation program reduced 14 varieties of lipophilic (fat-soluable) toxins by about 50 percent. These include DDE (a by-product of DDT) and harmful PCBs, which have been known to remain in the body for up to 40 years.
"These are environmental toxins that stay in the fat cells, and it's extremely hard to get rid of them," says Dr. Toomey. "Yet the ancient purification therapies of Maharishi AyurVeda are remarkably effective in flushing them out of the body."
A Restful Experience
Although deeply purifying, the treatments offered at The Raj are also soothing, relaxing, and rejuvenating. "The general experience is that purification does not have to be unpleasant," says Dr. Toomey. "In fact, it's blissful. Many people make it a habit to return to The Raj again and again to rest, reset, and purify."
One client said, "I have been to top health spas all over the world, and the one I keep coming back to is The Raj. It is truly the most peaceful and rejuvenating. Whether you are looking for an increased sense of spiritual peace and grounding, or whether you just want to look really good when you get back home, The Raj helps you accomplish whatever goals you set for yourself."
"I have been to top health spas all over the world, and the one I keep coming back to is The Raj. It is truly the most peaceful and rejuvenating." —Guest at The Raj
Benefits for Mind and Body
The Maharishi Rejuvenation program is known to have a wide range of health benefits. These include increased vitality and fertility, balanced digestion, enhanced luster of the skin and clear complexion, slowing of aging, increased physical strength, enhanced power of the sense organs, relief from joint aches and pains, and relief from chronic disorders.
Yet Maharishi AyurVeda purification is not just for the body; it has a powerful effect on the mind as well, improving memory, increasing calmness, and enhancing positive emotions.
"At the end of treatment, people report feeling lighter, having more energy, and more clear, blissful experiences during meditation," says Dr. Toomey. "When you purify the body of toxins, you open the path to deeper experiences in meditation."
Thus, the Maharishi Rejuvenation program supports the development of higher states of consciousness. "We know that the transcendental aspect of meditation means 'to go beyond,' " explains Dr. Toomey. "In order to experience that refined, transcendental level of our own pure consciousness, we need a purified, balanced physiology to support that experience."
Maharishi AyurVeda purification has a powerful effect on the mind, improving memory, increasing calmness, and enhancing positive emotions.
At the same time, the deep rest provided by the Transcendental Meditation technique helps the body to purify toxins. It is known, for instance, that the body naturally has the means to metabolize environmental toxins and impurities through the liver and other organs of purification. It's also known through research studies that chronic stress affects the body's ability to purify toxins, and the fact is that TM reduces chronic stress and wear and tear on the body.
Detox for the Brain
Dr. Toomey points out that this effect of TM in helping the body to purify environmental toxins is important for the brain as well. "Many environmental toxins are neurotoxic, which means they affect the ability of the brain to function," he says.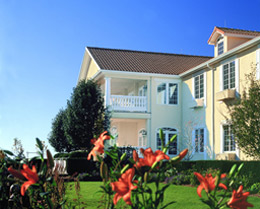 "Believe it or not, in Europe they count the by-product of pollution in lost IQ points. Which means that neurotoxic pollution can cause impairment of your intellectual abilities. It also means that when your body is overwhelmed with toxins, the ability to transcend may be less."
So on the one hand, the ability to transcend helps enliven the body to purify, and on the other hand, the purification of the body helps the mind transcend.
Scott Fuller visits The Raj twice a year with his wife, Lynn. "The focus is on the purification of the physiology," he says. "In my personal experience, it results in a profound wholeness. I always come back from The Raj feeling more grounded and in contact with my Self—with a capital 'S.' It's the kind of feeling that you have when you're six or seven, and you feel there is nothing wrong with the world."
Five Ways to Let Go of Toxins
Here are five Maharishi AyurVeda lifestyle habits that you can use at home to support your body's self-purification systems.
Detox while you sleep. According to Maharishi AyurVeda (and recent research on sleep), the body detoxifies during the period between 10:00 p.m. and 6:00 a.m. If you sleep during that time, your body will have the opportunity to rest, rejuvenate, and cleanse toxins properly.
Clean up your diet. Eat organic foods that have been grown without pesticides, chemical fertilizers, and genetically modified seeds. In general, eat fresh, cooked, warm foods, as these are easier to digest. Avoid packaged, canned, or frozen foods as these often have additives and are not fresh.
Reduce your stress. Practice the Transcendental Meditation technique to provide the deep rest and relief from stress the body's self-purification systems need to purify harmful toxins naturally.
Drink plenty of pure water. Water flushes water-soluble toxins from the body. Maharishi AyurVeda recommends warm water to aid digestion. Avoid ice-cold or carbonated water as these disturb digestion and cause digestive toxins to form.
Use herbal supplements for a safe and effective home cleanse. See The Maharishi AyurVeda Detox Routine at the Maharishi Ayurvedic Products International (MAPI) website (http://www.mapi.com).