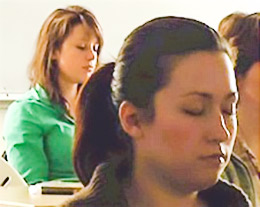 Did you know there's an accredited university where all students, faculty, and staff practice the Transcendental Meditation® (TM®) technique?
It's Maharishi International University (MIU), and—as you probably suspect—this plays a huge role in creating a uniquely positive and lively campus environment.
If you're interested in exploring MIU's on-campus or online degree programs, we encourage you to visit the MIU website and attend one of university's popular monthly Visitors Weekends.
Why Visit MIU?
Discover how MIU students learn more with much less stress
Learn why MIU students take only one full-time course each month
Experience a campus culture focused on inner and outer growth
Meet students and faculty who share a similar set of positive values
Hear about the MIU experience straight from the students
You can also take a guided tour of the MIU campus, including the Schwartz-Guich Sustainable Living Center, which the Associated Press called "the ultimate green building," and enjoy delicious organic, vegetarian cuisine at the Argiro Dining Commons.
To learn more about these special MIU weekends, travel reimbursements, and more, visit MIU's Visitors Weekends page.