Staff Sgt. Todd Knauber learned the Transcendental Meditation® technique because he desperately needed a way to cope with the nightmares, medications, and physical and emotional pain that threatened to destroy his life and relationships after returning from Operation Enduring Freedom in Afghanistan. Doctors could only offer him medication and years-long hard work, yet TM brought significant change within months.
Knauber learned TM as part of his treatment at Eisenhower Army Medical Center, and in "four months, he has been able to entirely discontinue two medications, Prazosin and Trazadone, and has reduced his Zoloft by half," reports an article by the U.S. Army.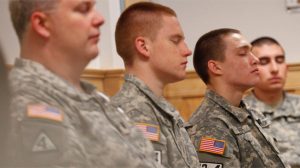 "In addition to the calm he says he experiences through Transcendental Meditation, Knauber says it has made it easier to manage his physical pain from his injuries," the author writes.
As Knauber explained, "I typically have a regimen of several pain medications to manage my physical injuries. Rather than taking a handful of pills seven days a week, I can manage my pain regularly with a few tablets, two to three times a week."
Service Member Looks and Feels Like a Different Person
Since Knauber started the TM technique others have told him that he looks like a different person. "I am vibrant, I smile, and I look much more grounded," he explained. "The truth is you can't practice Transcendental Meditation without it positively affecting you."
He acknowledged that "at times the troubling thoughts and nightmares come back, but as a whole, the progress is palatable."
For Knauber, the bottom line is this: "I feel more in control of my life now, and I'm becoming hopeful about rebuilding and getting better."
"I am vibrant, I smile, and I look much more grounded. The truth is you can't practice Transcendental Meditation without it positively affecting you." —Staff Sgt. Todd Knauber