Enjoy Dr. Tony Nader's recent Facebook talk on Maharishi AyurVeda®, a revival of the world's oldest and most complete system of natural healthcare. Watch the replay at any time on Dr. Nader's YouTube channel. This discussion was originally webcast on Sunday, December 8, at 2:00 p.m. ET, from Paris (8:00 p.m. EU).
Maharishi AyurVeda highlights the central importance of the mind-body connection for health, and helps to attune individual life with the cycles of nature, such as the seasons and times of day and night.
Learn more about how consciousness, mind-body type, diet, routine, and seasonal changes influence you on every level, and how better health may be achieved through Maharishi AyurVeda.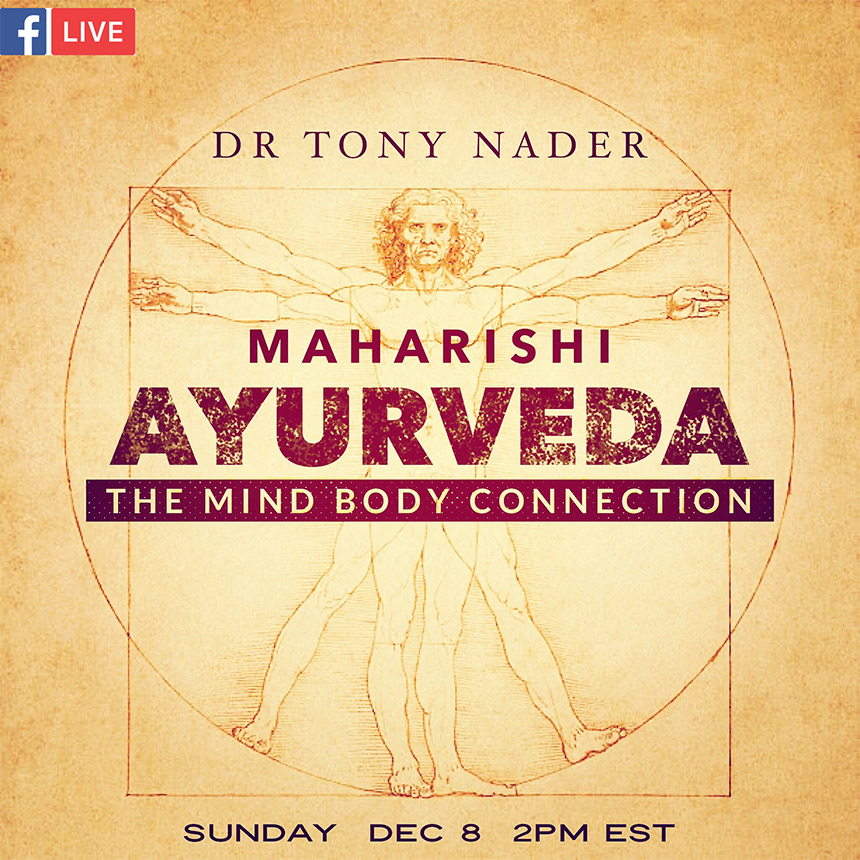 Watch the replay at any time on Dr. Nader's YouTube channel.
Maharishi's Revival of Ayurveda
Tony Nader, M.D., Ph.D., M.A.R.R., is an author, medical doctor, and neuroscientist trained at M.I.T. and Harvard University, and a globally recognized scholar in the fields of meditation, yoga, and consciousness.
For over 30 years, Dr. Nader worked closely with Maharishi Mahesh Yogi, who founded Maharishi AyurVeda by reviving the Vedic science of health, Ayurveda, with development of consciousness at its core.
As Maharishi's successor, Dr. Nader is the head of the international Transcendental Meditation® organizations, and oversees Consciousness-BasedSM programs in the fields of education, health, business, and other areas in more than 100 countries.
Watch the replay of Dr. Nader's talk on Maharishi AyurVeda here ►