My story begins in 1989 after my three-year marriage ended in divorce. I was wavering between traditional, organized religion, which I knew wasn't for me, and finding a path similar to my brother, who discovered the Transcendental Meditation® technique in the early 1970s. He was a calm, understanding, and wise person, so I decided to go that route.
I recall the morning that I was instructed in TM®. Some interesting events occurred on my drive from North Minneapolis to St. Paul, MN. I recall every detail of that morning and still have the items I was asked to bring to the TM Center that day.
I do know that I would not be able to have the career that I have and the family and marriage that I've created if I hadn't chosen to make TM a daily part of my life. It gives me the inner peace I need to deal with the stress of my job on a daily basis. It keeps me level-headed seven days a week, no matter what comes my way. Even my mother, who started practicing the TM technique in 1990 when she was diagnosed with breast cancer, agrees that it's an important part of her everyday routine. I wish more people would open their minds to the experience I enjoy on a daily basis.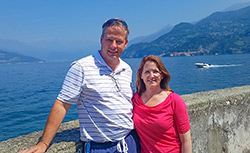 Shannon Booher is a senior paralegal living in Minneapolis, Minnesota. The photo of Shannon was taken by her husband, Joseph Booher, and the photo of the two of them by a friendly European tourist.