With true Carrey flair, Jim delivers a funny but inspiring speech to the students, parents, faculty, university administrators, and many others who packed the Patanjali Golden Dome of Pure Knowledge in Fairfield, Iowa to welcome this much-loved celebrity. He pokes fun at everything from Monsanto to Ayurveda, showing he had conscientiously done his homework in tailoring his talk to this particular graduating class. But it's not all comedy: Dr. Carrey also gives sound, sometimes moving, advice to his warmly receptive audience.
His talk has received over 10 million views (and counting!) on YouTube.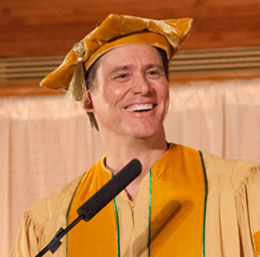 James Eugene "Jim" Carrey is a Canadian-American comedian, actor, author, and philanthropist. He was nominated for four Golden Globe Awards, two of which he won for The Truman Show and Man on the Moon. From his humble beginnings in stand-up comedy, he successfully worked his way up to television and Hollywood fame, starring in films like Ace Ventura: Pet Detective, The Mask, Dumb and Dumber, Liar Liar, Bruce Almighty, and many more. He has written one children's book, How Rowland Rolls, and, in 2005, started The Better U Foundation to reduce poverty and support farmers by promoting the System of Rice Intensification (SRI). He also practices the Transcendental Meditation® technique.
Watch Jim Carrey's complete 2014 MUM commencement talk here ►