"Someone, maybe in this room, saved me. I don't know who or where you are, but thank you," began T.T., a Retired Army Combat Veteran, at the greater New York 7th Annual Gala and TM Scholarship Fundraiser on November 12th. "As a way of appreciation, I set up a payroll deduction, matched by my employer, equal to one Operation Warrior Wellness Scholarship for 2017. I hope that next year there is another veteran up here, talking to you about this amazing gift."
T.T. is one of 5,000 people who learned the Transcendental Meditation® (TM) technique thanks to the generosity of his community and the Friends of the TM Program. Donations are made through TM Friends, which is part of the non-profit organization teaching the TM program and which raises scholarship funds for those facing financial hardship. In six years this national initiative has raised $5 million to guarantee that anyone wanting to learn TM can—no matter their circumstances. And 100 percent of the scholarship funds are used for those in need.
Enjoy an inspiring video with highlights of programs of the David Lynch Foundation and TM Friends in the U.S. and abroad ►
Here are some of the extraordinary stories shared by speakers, donors, and scholarship recipients at a few of this year's fundraising galas.
Philadelphia: A Life-Changing Gift for 9/11 First-Responder
Paul Van der Voort was a trauma nurse at the World Trade Center on 9/11, and the harrowing experience made PTSD a permanent fixture of his life. To create something good out of this terrible event, he became a Certified Registered Nurse Anesthetist and a Captain in the Army Reserves. But he was still plagued by PTSD and chronic pain. Counseling was helpful "cerebrally," he says, "but there was nothing in my being, in my soul, that was really being spoken to."
That all changed when Paul and his wife, Lori, an energy engineer, began the TM program. They feel that the practice has been an incredible gift in their lives, though they're not scholarship recipients. "I was honestly shocked at how simple the process is, but how transformative," Paul reflected as a speaker at the Philadelphia Gala. His first meditation was "so deep and so serene and profound" that it changed his whole perspective on his life. Since then, his "air traffic" brain has become "a more serene mind," and his chronic neck pain is practically gone. About his 9/11 experience he says, "It seemed impossible to ever be able to wrap my mind around it, and now I feel as though I have."
For Paul, learning TM has been so "unexpected and profoundly effective, it felt like another birthday for me. I realized that there is a way that I can live life as I have wanted to live for quite some time; I just have not known how to get there… So this was a gift that I am grateful for in a way that is hard to put into words."
Miami: Relief for a Law-Enforcement Veteran
Another veteran of frontline duty spoke about the life-saving effects of TM at the Miami-Dade TM Gala, which was held just outside Miami at the organic tropical fruits farm of TM teachers Kiki and Marc Ellenby.
"I was assaulted in the line of duty and sustained cervical and lumbar injuries," resulting in PTSD, insomnia, and asthma, said Alina Arenas, a retired law enforcement officer who served in government for 33 years. But nothing had worked to heal the collateral damage of her job. After months of research, Alina signed up to learn TM through the Miami-Dade TM Scholarship program. "I'm here only due to the generosity of the Maharishi Foundation, through the dedicated efforts of TM teachers Kiki and Marc Ellenby, who made it possible that I receive a scholarship."
Alina has been medication-free for 62 days. "I have no words to express my gratitude for this lifetime gift," she said. Practicing TM "proved to me what Maharishi said, 'Life is not a struggle, not a tension. Life is bliss, and it becomes accessible once again through the regular practice of meditation.' "
"I have no words to express my gratitude for this lifetime gift. Practicing TM proved to me what Maharishi said, 'Life is not a struggle, not a tension. Life is bliss.' " —Alina Arenas, retired law enforcement officer
Restoring Mind-Body Health in Extreme Circumstances
"We began this life-changing journey back in 2015," Kate Panaro told the gala at the Ellenby farm. Her boyfriend, Rafael Duran, after 20 years as a hostage negotiator and Miami-Dade detective, "was falsely convicted of a crime he did not commit." In the months before the trial, Rafael tried different methods to manage his stress, "but nothing worked."
He learned TM in early 2016 as part of a grant, "and instantly felt relief," Kate said. "He began sleeping, having more energy, better memory, and overall happiness."
When Rafael spent 93 days in protective isolation while awaiting transfer in Miami, "TM and prayer were the two tools that allowed him to survive mentally," she said.
For her part, TM has helped Kate cope with her stressful IT job and the "overwhelming emotions" triggered by these events. She concluded with Rafael's motto: "Simplicity is the key to life, but TM is a way of life… To Kiki and Marc and the scholarship donations committee, we are truly grateful."
TM Scholarship Recipients Give Back to "Healing for Humanity"
Many recipients give back to the TM Scholarship fund when they can—or even earlier. Mirene Charles shares why on TMFriends.org: "I felt it was important to give back and pay it forward, since I was able to learn TM only because of the scholarship I was blessed to receive… But as a single mom without permanent employment, I didn't know when that day would come."
But Mirene was inspired by a quote from the Dalai Lama: "The world will be saved by the western woman," who reinvests what she has, great or small, to help her family and community. She asked herself, "Why wait until I'm in the financial position I desire to be in to start giving back? Why not just start now with whatever I have?"
So Mirene gave what she could. "I began to give $10 a month, the same way I pay my bills," she writes. "If I could help even just one more person to learn TM, heal their own life, and be a part of the TM community of healing for humanity, then I've given something that is of immeasurable value and impact."
"When someone gives, the blessings that come back are far greater"
As TM Director Kiki Ellenby found, not only scholarship recipients and TM practitioners are inspired to help make TM available to all. Geraldine Townsen, who doesn't yet practice TM, attended the fundraiser with her wife, Marilyn Romero, and Marilyn's son Adrian, who both meditate. Geraldine decided to donate not just once, but monthly for a year.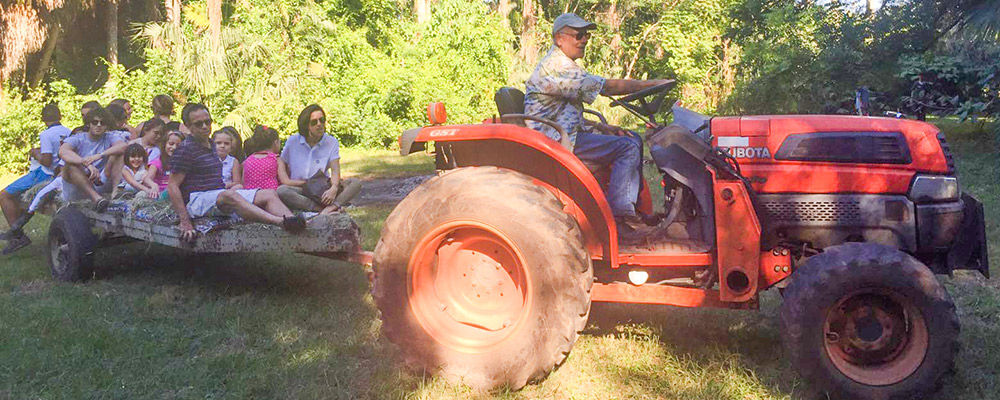 Miami-Dade Gala Hayride at Marc and Kiki Ellenby's tropical fruits farm
"Yes, I meant the donation to be continuous," Geraldine wrote to Kiki. "Marilyn is very happy, and she received one of your scholarships. I believe you are doing a wonderful thing by helping raise the love within people and therefore around the world. I know that with my donation, even if it's not that much, I'm helping your cause. I also believe that when someone gives, the blessings that come back are far greater. So I feel blessed to give. I hope to learn TM with my daughter soon!"
"I believe you are doing a wonderful thing by helping raise the love within people and therefore around the world." —Geraldine Townsen, TM Scholarship donor
To make a tax-deductible donation to your local TM Scholarship fund or to a national program for veterans or others, visit TMFriends.org and select your preference ►