In 2015 artist Lawrence Sheaff, Ph.D. was a research scholar and artist-in-residence at Maharishi University of Management (MUM). A feature article by Mo Ellis explores how Sheaff's work has been inspired by Maharishi Mahesh Yogi, Founder of the Transcendental Meditation® (TM®) program and MUM.
Sheaff had worked with Maharishi as a visual artist for 18 years, before resuming his own work as a painter in 1990. His goal then was to combine the two things he loved most: Vedic Science and painting.
"I didn't want to overlay or impose Vedic Science onto my work from the outside," reflects Sheaff. "Instead, I wanted it to authentically grow out of the process of painting itself and thus become an intimate personal experience. I began the Absolute Image Series in the UK in 1995."
"My paintings… are concerned with revealing the very foundation of our visual world." —Artist Lawrence Sheaff, Ph.D.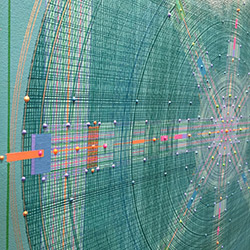 Sheaff recognizes a natural similarity between the beautifully complex geometric patterns of his paintings and traditional Vedic yantras, because they both utilize fundamental geometric forms, but he also points out a difference. "Yantras have a distinct function in their tradition," he says. "My paintings have a different function. They are concerned with revealing the very foundation of our visual world."
Sheaff says these images come spontaneously to his awareness, whole and complete, and then he innocently paints what he sees: "I continuously refer to that wholeness of the image during the process of painting. All my aesthetic decisions are made directly in reference to that wholeness."
Sheaff has filled many sketchbooks with the visual and verbal notations he makes as soon as an image appears in his mind. He refers to these notations to re-enliven the original wholeness of the image in his awareness when he is ready to render a particular painting.
"Having to give visual expression to the principles of Maharishi Vedic Science drew me deeply into this profound knowledge of consciousness and creativity." —Lawrence Sheaff
When Maharishi was developing the academic discipline of Maharishi Vedic Science, Sheaff helped oversee its rendition in books and exhibitions worldwide as head designer. This required working closely with Maharishi.
"Having to give visual expression to the principles of Maharishi Vedic Science drew me deeply into this profound knowledge of consciousness and creativity," Sheaff recalls. "Whatever I gained from those continuous interactions with Maharishi and Vedic Science, I now feel the need to share, to give back whatever it was I might have been given. I'd like to think I'm giving something of that back through my Absolute Image Series and my books about these paintings."
For more about Sheaff's artwork visit his website, AbsoluteImage.net ►